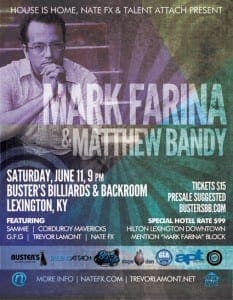 It has been a while since we have had a big show in Lexington for house music, and this is one that I have been waiting on for years! Building from a conversation that started in Miami about 5 years ago and after many scheduling conflicts, offers and persistent work, Mark Farina is finally coming to Lexington! Trevor Lamont and I have teamed up to put together the show, and we are both excited that this has landed! And, to sweeten the show, Matthew Bandy will be returning to Lexington from London, UK! I would suggest not waiting to grab tickets one of the biggest dance music events this city has seen in years! Get ready as Mark Farina, Matthew Bandy, Corduroy Mavericks, Sammie, G.F.G, Nate FX and Trevor Lamont get ready to rock Buster's warehouse concert venue!
OFFICIAL PRESS RELEASE:
World Renowned…
MARK FARINA
with Matthew Bandy
SATURDAY JUNE 11
Brought to you by House is Home, Nate FX and Talent Attach
@ Busters – Lexington, KY
Mark Farina – San Francisco
http://markfarina.net/
Shortly after Mark befriended Derrick Carter in 1988 at a record store in Chicago, his passion for House music, and sharing it with the world, exploded. Mark experimented with a deeper style, dropping De La Soul, disco classics and other stuff that wasn't being played in the main rooms of nightclubs. While exploring his love for the purist forms of House Music, Mark developed his trademark style: Mushroom Jazz; acid jazz infused with the West Coast's jazzy, organic productions along with urban beats. Fans embraced Mark's downtempo style so much that he started a weekly Mushroom Jazz club night in San Francisco with Patty Ryan. In 3 short years, the club established a fanatical, cult-like following for Farina and the Mushroom Jazz sound. When the doors closed, Farina continued the tradition by releasing a series of Cds, "Mushroom Jazz". Since then, Mark has been traveling the globe performing 100s of shows, to over one million club goers, a year. His House sets take fans on journeys to the jazzy side of Chicago House mixed San Fran style. Some of these sets have been known to last up to 8 hours. And sometimes you'll find Mark playing in two different rooms at the same party, showcasing his range of rocking the big room sound to the uber-chill. Farina's taste making skills continue to turn the heads of crowds worldwide and consistently draw new fans to his style of chunky–funky rhythms and deep underground house. URB, MUZIK and BPM Magazines have all had him on their Top DJ's In The World lists.
Matthew Bandy – London, UK
http://www.limestonerecordings.com/
Now living in London England, and before that Colorado, it has been a long time since Matthew returned to the city where his label Limestone Recordings started. His production work as a solo artist and as Deep House Souldiers has landed him track release after track release. You can find his music on compilations worldwide on Defected, Universal, Om, Astralwerks, Large Records and many more. Matthew is living proof that no matter where one resides, originality and dedication is more important than ones locale.
Corduroy Mavericks – Lexington, KY
http://www.corduroymavericks.com/
Hailing from Lexington, Kentucky, Matt Mason and Rick Nielsen, better known as the Corduroy Mavericks, are quickly smashing the stereotype that the Midwest is lacking in prolific house music producers. With their quirky range of jazzy, soulful, techy, deep and funky house, New York, Chicago, the West Coast and other dance meccas have been put on notice via the sonic enthusiasm of a pair of Corduroy-loving trailblazers from the Bluegrass State. "Music is an integral part of our lives," Rick says. "It's the fix in my day that keeps me focused, energized and motivated. It's a part of me the same way that my arm or leg is a part of me. I'm that guy that that listens to electronic music all day every day with a healthy sprinkling of funk, soul, jazz, swing and rock. These are all the influences that permeate our music." When pressed further about their musical heroes, they quickly make note of the collective of the jocks out there hustling their sound. They're drawn to producers they feel advanced the cause and created a unique sound within the industry, including artists and DJs such as the East Coast Boogiemen, Garth, Inland Knights, Mark Farina, Masters at Work, Miguel Migs and Joey Youngman, to name just a few. Matt & Rick began collaborating in the studio circa 2005 and the last few years have seen them really hitting their stride. In July 2009, the Chicago-based Flapjack Records released their aptly named breakout track, "Break A Dawn," which quickly climbed the charts on go-to digital music site Stompy.com. Suddenly, the house scene was flooded with their infectious beats. Now, five years later, the Mavericks have racked up releases on top outlets including Alphabet Music, Blue Iguana, Guesthouse and Juiced, with more forthcoming tracks on Flapjack, Llama Farm and Roundhouse. "Different labels like different sounds so we are glad that we can appeal to a wide variety of outlets," Rick and Matt agree. "Since our influences come from so many different styles we try to make what moves us." Having played across the U.S., including Baltimore, Chicago, Cincinnati, Indianapolis, Nashville, Orlando and Phoenix, more than thirteen releases in three years and at least ten more in the works, the strong impact the Mavericks themselves have had on the house scene is clear. "I think that in any partnership, it takes time to establish roles and figure out the yin and yang of the creativity," Rick notes. "Not only have we grown together as friends, but we have grown together as creative artists." And their success is proof of that.
Featuring:
Sammie – Nashville, TN
G.F.G – Louisville, KY
Your Hosts:
Trevor Lamont – House Is Home
Nate FX – Talent Attach
Giveaways by Our Radio Host:
Hot 102 Lexington
Follow @hot102lex for details
Tickets: $15
BUY TICKETS ONLINE NOW (CLICK HERE)
Buster's Billiards & Backroom
Lexington Distillery District
899 Manchester St
Lexington-Fayette, KY 40508
859-368-8871
Free DJ Mixes and more info:
http://natefx.com and http://trevorlamont.net